Counting Sheep: A Guerrilla Folk Opera
Lemon Bucket Orkestra in association with Aurora Nova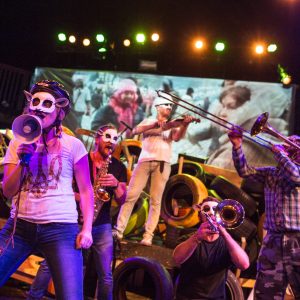 Extra dates added! 29th August @ 20:00 via Ed Fringe Tickets
Please select a performance and hit 'Book Tickets'
A rousing call to arms, created by Mark and Marichka Marczyk and led by guerrilla-folk party-punks Lemon Bucket Orkestra. Based on the creators' first hand experiences during the 2014 Kiev uprising, Counting Sheep invites you to lose yourself in the events that changed the course of Ukraine's history forever. Sing, march, protest, dance, eat, help, recoil, fight, laugh, cry – this is immersive theatre at its most gripping. Entirely sung in traditional Ukrainian polyphony, Counting Sheep is an electrifying exploration of human resilience.
Extra dates added! 29th August @ 20:00 via Ed Fringe Tickets
#countingsheeprevolution
"As close as one could get to experiencing a revolution without actually putting your life on the line"
Torontoist
Reviews
Broadway Baby - Link

British Theatre Guide - Link

The List - Link

The Skinny - Link

The Herald - Link

Search

Festival News

Themes