Mark Fell, Okkyung Lee, Carl Michael von Hausswolff + Rian Treanor (DJ Set)
Summerhall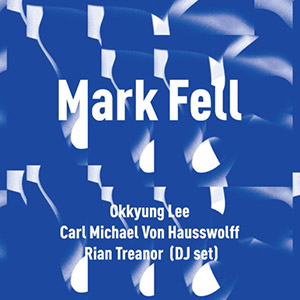 Please select a performance and hit 'Book Tickets'
Summerhall Curated, Braw Gigs and NEHH Present…
To mark sound artist and producer Mark Fell's exhibition in Summerhall's Machine Shop, Fell curates an evening of sound and music performance – dense, austere and laconic – perfectly suited to the ambience of the Dissection Room. The evening features Fell's own productions, and solos from composer Carl Michael von Hausswolff and cellist Okkyung Lee and added to the line-up to see us late into the night is a DJ set from Rian Treanor.
Mark Fell is an artist and producer based in South Yorkshire and is half of the duo SND. Okkyung lee is a South Korean cellist/composer/improviser based in New York, who developed her unique language by pushing and blurring the boundaries of contemporary cello and improvisation. Carl Michael von Hausswolff is an artist and composer, using recording technology as his main instrument.
Rian Treanor, signals from the North of England, he re-imagines the intersection of club culture, experimental art and computer music, presenting an insightful and compelling musical world of interlocking and fractured components. Having left a vivid impression in 2015 with his debut 12″ A Rational Tangle, he's just delivered a scintillating 2nd EP Pattern Damage on The Death of Rave, landing with a resounding 10/10 and album of the month merit in Mixmag and Boomkat. Pattern Damage is a marked step from last year's debut, hybridizing idiosyncratic footwork and garage hybrids with noisier, pointillist hooks and innovative arrangements owing as much to disco as oblique futurist computer music.