Bubble Schmeisis
Written & Performed by Nick Cassenbaum. Directed by Danny Braverman (Wot? No Fish!!)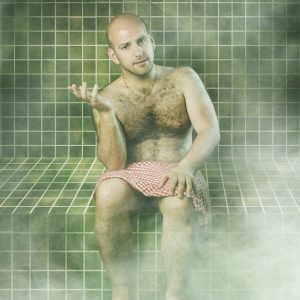 Please select a performance and hit 'Book Tickets'
Bubbemeises is Yiddish for a grandmother's story, a tall story, an old wives' tale. Writer and street performer Nick Cassenbaum and his musicians invite you to enjoy a bubbemeises in the warmth of the Canning Town Schvitz, East London's last authentic bath house. Amongst the steam and ritual Nick will take you on a journey to find the place he belongs.  Schlapping through summer camps, barber shops and Spurs games, will Nick find what he was looking for? Bubble Schmeisis is full of intimate and personal true stories about identity, home and getting schmeised (washed) by old men.
Musicians for the performance are as follows: Week 1 & 4; Daniel Gouly & Josh Middleton from the band Don Kipper. Week 2 & 3; Tom Baker & John Macnaughton
Produced by Nick Cassenbaum and Robin Rayner.
Search
Festival News
Themes