Bang Said The Gun
Bang Said The Gun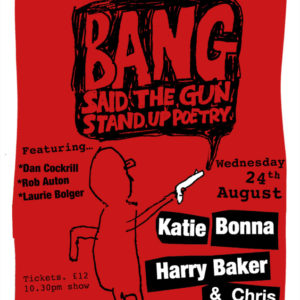 Please select a performance and hit 'Book Tickets'
Bang Said The Gun is poetry for people who don't like poetry.
Voted the best poetry night in the UK by the Times, Bang Said The Gun has made poetry cool again.
A rollercoaster of emotions, it's loud, raucous, political, trivial, serious and very funny. Normal rules do not apply here. Featuring a rich mix of the best and freshest talent, they will grab you by the collar and drag you into another world.
As recommended by Kate Tempest, 'It's like mud wrestling with words', or as ex poet laureate, Andrew Motion puts it 'BSTG is a vortex of energy and enthusiasm'.