4D Cinema
Mamoru Iriguchi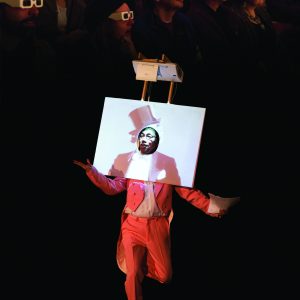 Please select a performance and hit 'Book Tickets'
Sporting a screen and a projector around his face, Mamoru Iriguchi turns himself into a mobile cinema. He explores what is live and what is pre-recorded, fixed eternally on film, and looks at what liveness means when technology blurs actual and virtual realities.
Winner of the Autopsy Award
"Surreally comic and typically techy exploration of time by one of the UK Theatre's most ingenious figures"
The Stage
"Iriguchi's haunting, whimsical reflection on the life of Dietrich, driven by brilliant use of technology"
The Scotsman
"The sheer craft and invention… this is a really cunning, witty work that makes the brain cells spark with delight"
The Herald
Search
Festival News
Themes