WRITE IT : MIC IT
Poleroid Theatre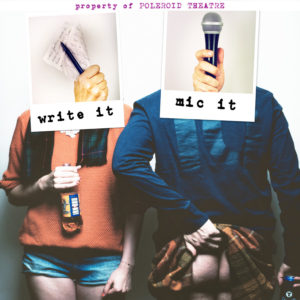 Please select a performance and hit 'Book Tickets'
After four years at Vault, Live Theatre, Hackney Attic, Manchester Castle Hotel, Wilderness Festival & Standon Calling, Poleroid Theatre's acclaimed open 'write' platform returns for it's second year at the Roundabout!
Triple Off-West End Award nominated Poleroid Theatre bring together the UKs most exciting emerging artists offering audiences a sneak peak into new work at the first stage of it's development and snippets of the best shows to see at the Edinburgh Fringe Festival 2016.
Artists include KATIE BONNA (Dirty Great Love Story/Soho Theatre), LUKE COURTIER (Musical Comedy Award Finalist 2015), MIXED DOUBLES (Dave Comedy Shorts Winners), TOM GILL (Kate Tempest Award Winner), PHOEBE ECLAIR-POWELL (Soho Theatre/Verity Bargate Award Finalist) & LAUGHING STOCK (Sketchfest Audience Choice Winners).
Links