Ghost Quartet
Ghost Quartet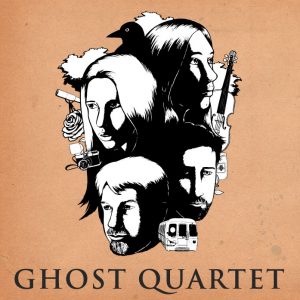 Please select a performance and hit 'Book Tickets'
Ghost Quartet is a haunted song cycle about love, death, and whisky. A camera breaks and four friends drink, in four interwoven narratives spanning seven centuries: a warped fairy tale about two sisters, a treehouse astronomer and a lazy evil bear; a retelling of Poe's "The Fall of the House of Usher"; a purgatorial intermezzo about Scheherazade; and a contemporary fable about a subway murder. Murder ballads, doo-wop, Islamic adhan, and raucous campfire drinking songs collide in this chamber musical from Dave Malloy, composer of the Broadway-bound "Natasha, Pierre & The Great Comet of 1812".
"Winner, 2016 Elliot Norton Award, Outstanding Visiting Production"
"Ghost Quartet unfolds with a subtly seductive allure...tight harmonies, compelling characters, and rich musicianship draw us into a cozy world to explore our fascination with and connection to otherworldly spirits for a uniquely thrilling evening."
Terry Byrne, Boston Globe
"The brilliantly inventive Dave Malloy's theater songs make you blue like the sky: sad but high. Listening to his brand of emo-pop regret laced with cosmic hope, it's like you're watching a spectacular sunrise after a night of whiskey and lame flirting"
David Cote, Time Out New York
"Rapturous…Mr. Malloy is infectiously in love with the dark arts of storytelling in all its forms."
Ben Brantley, New York Times